A-Tag
a-Tag is an independent organization, which provides a unique system of authenticating sports memorabilia.  Using the latest global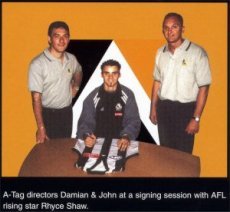 technologies available combined with a comprehensive database and registration system, a-Tag protects licensing bodies, sporting and other identities, manufacturers and consumers.  The technologies used by a-Tag applied at the time of production means a-Tag:
Ensures the authenticity of products
Protects fraudulent copy
Provides on-going verification of the products authenticity
Ensures products realize their full potential value.
Providing protection will result in an increase in consumer confidence in your products.
Eliminating the ability of memorabilia to be copied or re-produced means a-Tag can prevent the loss of revenue from:
Devaluing of genuine products
Direct loss of income from a reduction in sales.
a-Tag is also a value added system which can be used in the marketing of your genuine licensed products.
The memorabilia industry is experiencing a dramatic increase in growth, which has also brought an increase in fraudulent activity.  With extensive experience in the law enforcement area, a-Tag Directors John Viney and Damian Oehme, have witnessed this increase in memorabilia fraud over recent times.
a-Tag has a network of agents throughout Australia's major capital cities:
Melbourne
Sydney
Adelaide
Perth
Brisbane
The Australia Football League, one of Australia's largest sporting bodies, has endorsed the a-Tag system, contracting a-Tag Authenticated as the official body for the authentication of all AFL memorabilia.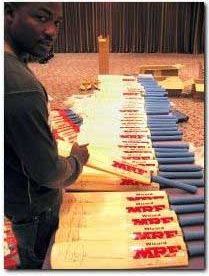 Through the licensing arm of the AFL, Elite Sports Properties, a-Tag has authenticated thousands of items of AFL sporting memorabilia which have been sold to satisfied customers Australia wide.